You are here
Back to top
Cognitive Behavior Therapy, Second Edition: Basics and Beyond (Hardcover)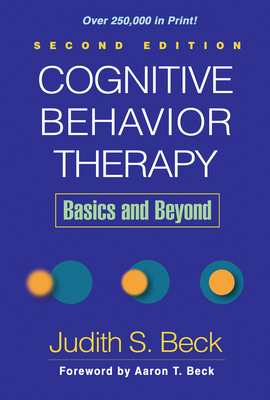 $57.00
Usually Ships in 1-5 Days
Description
---
This book has been replaced by Cognitive Behavior Therapy, Third Edition, ISBN 978-1-4625-4419-6.
 
Praise For…
---
"Whether readers are graduate students getting their first exposure to cognitive therapy or seasoned professionals wanting a refresher on cognitive theory, Dr. Beck's book will satisfy most all professional training needs."
— Psychiatric Services
"An important, timely, and valuable resource for psychiatric professionals who engage in formal cognitive-behavioral therapy or who practice cognitive-behavioral techniques in other contexts. This text provides a clarity of conceptualization and a review of techniques that will prove extremely useful to students as well as experienced therapists."
— Journal of Psychosocial Nursing
"A comprehensive road map to the practice of CBT....A must-read guide for graduate students and practicing therapists who are interested in learning the essentials of CBT. It will no doubt be recognized as a classic text in the field due not only to its excellent coverage of CBT, but also to the clear, concise, and illustrative manner in which the techniques are presented."
— Journal of Clinical Psychiatry
"With its overview and in-depth update on the therapeutic application of cognitive behaviour therapy, the text will be of use to cognitive behavioural beginners and professionals alike. The techniques covered in this text would be useful in a wide variety of settings, such as with adolescents in a school setting or adults in the general population with sever mood disorders....Highly recommended for practising psychologists."
— Australian Educational and Developmental Psychologist
"A comprehensive and highly useful teaching text that can be used by either therapist-in-training or experienced therapists. It is well written in clear, concise prose with a minimum use of jargon....Judith Beck is a master psychotherapist who has successfully compiled a text that clearly explains the fundamentals of cognitive therapy in a way that will be exceedingly useful to anyone studying psychotherapy. Psychiatry residents I work with consistently want to see actual examples of how psychotherapy is done. This book, with its extensive dialogues, provides a clear example of how a skilled, empathic therapist conducts treatment. What is most impressive about this work is that it provides thorough and detailed instruction yet is concise enough to be read cover-to-cover in a reasonable length of time….After mastering this text, those interested in more in-depth instruction from Dr. Beck can obtain her work Cognitive Therapy for Challenging Problems: What to Do When the Basics Don't Work, also published by Guilford Press."
— Journal of Psychiatric Practice
The bookstore is open! Curbside pickup is also still available.
Hello Friends of Excelsior Bay Books:
We are open for browsing! The store is open Monday through Saturday from 10-6.
We are also available for phone or on-line orders. Curbside pickup is still an option.
Thanks for your patronage.
NOTE: If you want to place an online order, you first need an account. Click Login and choose Create an Account. Once you set up an account, you can login, select books, place them in the cart, and place your orders!