You are here
Back to top
Ethnocultural Factors in Substance Abuse Treatment (Hardcover)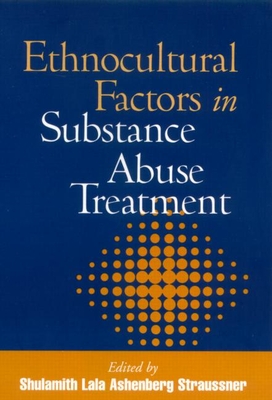 $108.00
Usually Ships in 1-5 Days
Description
---
This book presents a culturally informed framework for understanding and treating substance abuse problems. From expert contributors, chapters cover specific ethnocultural groups in the United States, including Americans of African, Native American, Latino, European, Middle Eastern, and Asian descent. Authors examine how ethnocultural factors may affect a person's attitudes toward alcohol and other drugs, patterns of substance use, reasons for seeking treatment, and responsiveness to various interventions. Themes addressed include the impact of migration and acculturation issues, spiritual values and traditions, family structures, gender roles, and experiences of prejudice and discrimination. Featuring a wealth of illustrative clinical material, the book makes concrete recommendations for more competent, effective assessment and intervention. It also guides clinicians toward greater awareness of the ways their own ethnocultural backgrounds may affect their interactions with clients.
About the Author
---
Shulamith Lala Ashenberg Straussner, DSW, LCSW, is Professor at the Shirley M. Ehrenkranz School of Social Work at New York University, where she is also Director of the Post-Master's Program in the Treatment of Alcohol- and Drug-Abusing Clients. She was a Fulbright Senior Scholar to Israel in 2003; Distinguished Visiting Professor at Ben-Gurion University of the Negev in Beer-Sheva, Israel, in January 2002; and Visiting Professor at the Omsk State Pedagogical University in Siberia, Russia, in the spring of 2000. Dr. Straussner has authored and edited numerous publications dealing with substance abuse and is the founding editor of the new Journal of Social Work Practice in the Addictions. She has served on the National Center on Substance Abuse Treatment panel on workforce issues and is a founding board member of the New York State Institute for Professional Development in Addictions. She serves as a consultant to various hospitals, agencies, and other organizations in New York and lectures on a variety of topics throughout the United States and abroad. She also has a private therapeutic and supervisory practice in New York City.
Praise For…
---
"This is a superb, comprehensive primer for all clinicians. In uniformly thorough and clear chapters, the editor and contributing authors teach the reader how to think about the theoretical and practical significance of context and the multiple factors of race, ethnicity, and culture--always present and always wielding a critical influence. Reading this text is like learning a new language whose ideas and vocabulary open a wide new territory. In a world where diversity is normal, the concepts of cultural identity and ethnocultural conflict are key. This volume provides a map of cultural sensitivity that adds a vital, expanding dimension to traditional ways of thinking about addiction. It should be a basic text and clinical resource for years to come."--Stephanie Brown, PhD, Director, The Addictions Institute

"This volume lays out the critical clinical issues involved in culturally competent practice. The authors provide a rich context for understanding current substance abuse patterns in an impressive range of ethnic groups--more than I have ever seen discussed under one cover. The information presented is well researched and referenced, and the authors do a nice job of avoiding rigidity in their recommendations. Several chapters address such groups within the culture as women, adolescents, and refugees, who have unique needs and for whom the clinician may need to vary his or her approach. The case examples give depth to the discussion and illustrate important intervention techniques. Social work students at all levels will find this text helpful." --Maryann Amodeo, MSW, PhD, Director, Alcohol and Drug Institute for Policy, Training and Research, and Associate Professor, Boston University School of Social Work

"An extraordinarily sensitive work on substance abuse treatment, offering clinically illustrated, expert discussion of addictive behavior and treatment within 19 distinct ethnocultural groups."
— Choice
The bookstore is open! Curbside pickup is also still available.
Hello Friends of Excelsior Bay Books:
We are open for browsing! The store is open Monday through Saturday from 10-6.
We are also available for phone or on-line orders. Curbside pickup is still an option.
Thanks for your patronage.
NOTE: If you want to place an online order, you first need an account. Click Login and choose Create an Account. Once you set up an account, you can login, select books, place them in the cart, and place your orders!