You are here
Back to top
Lenny the Loon: An Adventure on Lake Minnetonka (Hardcover)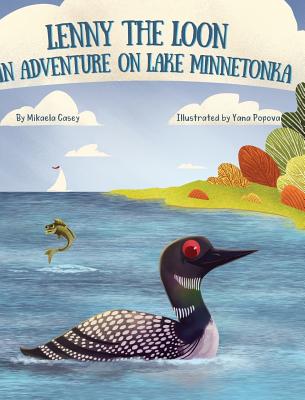 Description
---
An Adventure on Lake Minnetonka tells the journey of Lenny the Loon and Wally the Walleye as they navigate and explore iconic Lake Minnetonka. The story begins when Lenny finds Wally heading towards Minnehaha Creek, where he plans to leave the lake once and for all. Lenny offers to guide Wally, pointing out all of the lake's beautiful locations and fun to be had along the way. After a fun day of sightseeing and nautical knowledge, Wally and Lenny end up at Minnehaha Creek; leaving Wally with a tough decision. Lenny the Loon teaches readers the power of friendship and that sometimes what you're looking for... is right there in front of you. Anyone who has ever enjoyed the beauty of Lake Minnetonka will appreciate this fun and charming children's book.
Thanks for visiting Excelsior Bay Books!
Hello Friends of Excelsior Bay Books:
We are open for browsing! The store is open Monday through Saturday from 10-6.
We are also available for phone or on-line orders. Curbside pickup is still an option.
Thanks for your patronage.
NOTE: If you want to place an online order, you first need an account. Click Login and choose Create an Account. Once you set up an account, you can login, select books, place them in the cart, and place your orders!
Another Note: The books you'll see as you browse are a combination of what we have in-store and what is available through publishers and distributors. Please call us at 952-401-0932 if you want to find out if a book is immediately available.