You are here
Back to top
Where Does a Pirate Go Potty? (Hardcover)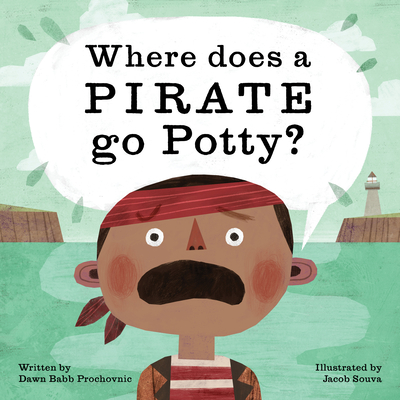 $16.99
Usually Ships in 1-5 Days
Description
---
"Ahoy thar, matey Where does a pirate go potty around here?"
This little pirate's got to go potty He wanders around sandy beaches and dark caves, discovering where the sea lion, the pelican, and even the octopus go potty. But where in the seven seas can a pirate go? A hilarious adventure filled with playful anticipation and fun, Where Does a Pirate Go Potty? guarantees a good time and laughter.
This book is a companion to Where Does a Cowgirl Go Potty?
About the Author
---
Dawn Babb Prochovnic is an author, educator, speaker, and the founder of SmallTalk Learning, which provides American Sign Language education. She has written several children's books and led workshops to support early literacy. Visit her at dawnprochovnic.com. Jacob Souva is a designer and an illustrator of children's books, including Where Does a Cowgirl Go Potty?, Where Does a Pirate Go Potty?, and Pedro's Pan. He finds inspiration in texture and pattern, and loves incorporating his process into his artwork. Visit him at twofishillustration.com.
The bookstore is open! Curbside pickup is also still available.
Hello Friends of Excelsior Bay Books:
We are open for browsing! The store is open Monday through Saturday from 10-6.
We are also available for phone or on-line orders. Curbside pickup is still an option.
Thanks for your patronage.
NOTE: If you want to place an online order, you first need an account. Click Login and choose Create an Account. Once you set up an account, you can login, select books, place them in the cart, and place your orders!