You are here
Back to top
Lady Bird and Lyndon: The Hidden Story of a Marriage That Made a President (Paperback)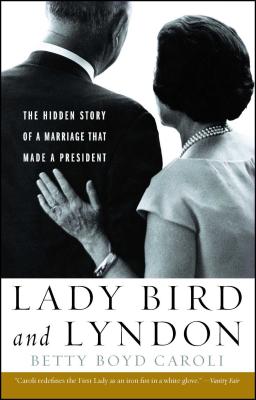 Description
---
This "smartly written…stunning" (The Boston Globe) portrait of Lady Bird as the essential strategist, fundraiser, barnstormer, and ballast for her husband Lyndon offers "a penetrating analysis…of a marriage that paired two complicated but devoted figures, a coupling that changed the face of America" (Richmond Times-Dispatch).

Marriage is the most underreported story in political life, yet it is often the key to its success. Historian Betty Boyd Caroli spent seven years exploring the archives of the LBJ Library, interviewing dozens of people, and mining never-before-released letters between Lady Bird and Lyndon. The result "redefines the First Lady as an iron fist in a white glove" (Vanity Fair) and helps explain how the talented, but flawed Lyndon Baines Johnson ended up making history.

Lady Bird grew up the daughter of a domineering father and a cultured but fragile mother. When a tall, pushy Texan named Lyndon showed up in her life, they married within weeks with a tacit agreement: this highly gifted politician would take her away, and she would save him from his weaknesses. The conventional story goes that Lyndon married Lady Bird for her money and demeaned her by flaunting his many affairs, and that her legacy was protecting the nation's wildflowers. But Caroli shows that she was also the one who swooped in to make the key call to a donor, to keep the team united, to campaign in hostile territory, and to jump-start Lyndon out of his paralyzing dark moods.

In Lady Bird and Lyndon, Caroli restores Lady Bird to her rightful place in history. But she also tells a love story whose compromises and edifying moments many women will recognize.
About the Author
---
Betty Boyd Caroli is the author of Lady Bird and Lyndon: The Hidden Story of a Marriage That Made a President; First Ladies: Martha Washington to Michelle Obama; Inside the White House; and The Roosevelt Women. She has been a guest on Today, The O'Reilly Factor, Lehrer NewsHour, Al Jazeera, Booknotes with Brian Lamb, and many others. A graduate of Oberlin College, Caroli holds a master's degree in Mass Communications from the Annenberg School of the University of Pennsylvania and a PhD in American Civilization from New York University. She currently resides in New York City and Venice, Italy.
Praise For…
---
"With a shrewd and clear eye, Betty Caroli has redefined one of the most compelling marriages of 20th century American politics. Lady Bird Johnson has always been seen as the loyal supporter of her charismatic husband Lyndon, enduring his wounding outbursts, unceasing demands, and flagrant infidelities. Now, in this absorbing study, Lady Bird finally takes center stage, showing the strength and resilience behind her soft Southern manner, and we see for the first time her political acuity and business savvy, which were essential to Lyndon's success. Betty Caroli deeply understands the couple's temperamental dynamic, and skillfully reveals how deftly Lady Bird worked behind the scenes: building bridges, offering wise advice, keeping her volatile husband steady during his darkest moments, and helping him turn his sweeping ambitions into action."
— Sally Bedell Smith, author of For Love of Politics: Inside the Clinton White House and Grace and Power: The Private World of the Kennedy White House

"It's fantastic."
— Whoopi Goldberg

"This inside look at the marriage of Lady Bird and Lyndon provides stunningly fresh insights into the well-examined political soul of Lyndon Johnson. But the star of this story is Lady Bird, and out of Caroli's strikingly original portrait of this strong, smart woman emerges an irresistible tale of politics, ambition, and the power of unconditional marital love."
— David Maraniss, Pulitzer Prize-winning author of First in His Class: A Biography of Bill Clinton

"A great book. Everybody who loves politics has got to read this one."
— Chris Matthews, host of Hardball with Chris Matthews

"In Lady Bird and Lyndon, Betty Caroli takes us inside the biggest mystery there is: a 40-year political marriage. The romance, love affair and partnership between Miss Claudia Taylor and Lyndon Baines Johnson are all here for the first time--and so are their struggles and heartbreaks, a reminder that politics is complicated but family is even more so."
— Michael Duffy & Nancy Gibbs, coauthors of The Presidents Club

"The coach, the advisor, the steady soothsayer to an erratic man—in these pages, Lady Bird Johnson bursts from history's shadows to her rightful place at the heart of a stirring story. More important still, Betty Caroli establishes the prominence of a gripping and mysterious relationship—one of the critical intimacies of the 20th century. This is a tremendous work of scholarship and storytelling."
— Joshua Wolf Shenk, author of Powers of Two

"Engrossing and perceptive. . . . Caroli shows that Mrs. Johnson played a crucial part in getting her husband to the White House and through the presidency. One of the essential studies of a modern first lady written by one of the masters of the field."
— Lewis L. Gould, author of Lady Bird Johnson: Our Environmental First Lady

"Caroli redefines the First Lady as an iron fist in a white glove."
— Vanity Fair

"Smartly written and devoid of gossip and cant. . . . Stunning."
— Boston Globe

"The spouses of the world's most influential movers and shakers rarely receive similar attention to their lives, regardless of the influence they may have had, but biographer Caroli bucks the trend with this enticing and fun examination of Claudia Alta Taylor "Lady Bird" Johnson. . . . Johnson changed the role of First Lady forever, and Caroli's well-researched work gives readers insight into that shift."
— Publishers Weekly (starred review)

"[Caroli], an expert on first ladies, provides overdue recognition of the important role Lady Bird Johnson played in an historic presidency."
— Washington Independent Review of Books

"Lady Bird and Lyndon reveals the demure powerhouse behind a president. . . . In her absorbing new book, Caroli delves deep into the complex and compelling relationship between Lady Bird and LBJ. . . . Groundbreaking. . . . Through unprecedented research, including her investigation into previously unpublished letters that LBJ and Lady Bird exchanged during their brief courtship, Caroli fashions a detailed and captivating portrayal of the ultimate Washington power couple: the larger-than-life president, and the woman who played the indispensable role in making him who he was."
— BookTrib

"Engaging. . . . Caroli breaks new ground by drawing on newly available evidence--above all a trove of love letters from Lyndon and Lady Bird's brief courtship in 1934--and advancing a provocative argument to explain what held the couple together for so long despite their enormous differences. . . . The book offers a convincing portrait of a level-headed, genial and talented woman who left an indelible mark on the nation."
— Austin-American Statesman

"Our idea of Claudia Taylor Johnson as an autonomous individual--someone with great ambition and intellect as well as great compassion and poise--is underdeveloped to say the least. How well do we know the woman who was courted by LBJ and bolstered him as he fought his way up the political ladder to the U.S. House of Representatives, the Senate, and the Presidency? Betty Boyd Caroli dispels any notion of Lady Bird as LBJ's doormat."
— Austin Chronicle

"A touching, sympathetic portrait of a successful marriage despite the agony and the stress, emphasizing Lady Bird Johnson's spectacular inner grit. . . . Caroli does an impressive job refuting [Lady Bird's] 'doormat' reputation . . . by underscoring the symbiotic relationship that mutually sustained the couple through their whole lives. . . . An engaging dual biography of a most intriguing power couple."
— Kirkus Reviews

"Caroli fills out the portrait of a pragmatic political partnership emphasizing Lady Bird Johnson through many letters unavailable to researchers until 2013, using analysis by historians and details of important face-to-face, email, and telephone interviews with those who understood the dynamics of the marriage of Lyndon B. Johnson and Lady bird. . . . Caroli's suggestion and amplification of a virtual pact teased out of Lyndon and Bird's correspondence during a very brief courtship frames the story of this alliance. Recommended for history buffs and devotees of human behavior."
— Library Journal

"President Lyndon B. Johnson was a pretty tough guy, the kind of leader who could steamroll Congress when it was called for. His wife, Lady Bird, was no wilting flower either. . . . With research from Lady Bird's personal diaries and newly released letters between her and Lyndon during their brief courtship in 1934, Caroli makes a compelling case that the first lady was more important to LBJ's career than commonly believed."
— New York Post

"Insightful. . . . Caroli recounts Lady Bird's progress from childhood to middle age with telling details and intriguing anecdotes. . . . Caroli's book stands alone as a penetrating analysis not so much of two individuals but instead of a marriage that paired two complicated but devoted figures, a coupling that changed the face of America."
— Richmond Times-Dispatch

"Caroli uses a wealth of primary sources to explore the marriage of Lady Bird and Lyndon [and] skillfully weaves the couple's personal lives together with the tumultuous political situations they faced. Her narrative is a soulful account that details the pair's widely divergent family backgrounds and acknowledges that LBJ was indeed the 'human puzzle' that one journalist called him, but also 'head over heels' in love with his wife."
— BookPage

"Caroli's work is a very nice supplement [to Robert Caro's volume] that fills in some important gaps."
— Fort Worth Star-Telegram

"Caroli argues persuasively. . . . It's refreshing to see Lady Bird given her due."
— The Daily Beast

"Full of fascinating details about the behind-the-scenes functioning of a partnership that affected the lives of many millions of people."
— Lone Star Literary (Lubbock, TX)
The bookstore is open! Curbside pickup is also still available.
Hello Friends of Excelsior Bay Books:
We are open for browsing! The store is open Monday through Saturday from 10-6.
We are also available for phone or on-line orders. Curbside pickup is still an option.
Thanks for your patronage.
NOTE: If you want to place an online order, you first need an account. Click Login and choose Create an Account. Once you set up an account, you can login, select books, place them in the cart, and place your orders!