You are here
Back to top
The Evening and the Morning (Large Print / Paperback)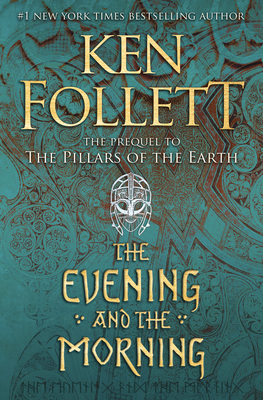 $37.99
Usually Ships in 1-5 Days
Description
---
From the #1 New York Times bestselling author, a thrilling and addictive new novel--a prequel to The Pillars of the Earth--set in England at the dawn of a new era: the Middle Ages It is 997 CE, the end of the Dark Ages. England is facing attacks from the Welsh in the west and the Vikings in the east. Those in power bend justice according to their will, regardless of ordinary people and often in conflict with the king. Without a clear rule of law, chaos reigns. In these turbulent times, three characters find their lives intertwined. A young boatbuilder's life is turned upside down when the only home he's ever known is raided by Vikings, forcing him and his family to move and start their lives anew in a small hamlet where he does not fit in. . . . A Norman noblewoman marries for love, following her husband across the sea to a new land, but the customs of her husband's homeland are shockingly different, and as she begins to realize that everyone around her is engaged in a constant, brutal battle for power, it becomes clear that a single misstep could be catastrophic. . . . A monk dreams of transforming his humble abbey into a center of learning that will be admired throughout Europe. And each in turn comes into dangerous conflict with a clever and ruthless bishop who will do anything to increase his wealth and power. Thirty years ago, Ken Follett published his most popular novel, The Pillars of the Earth. Now, Follett's masterful new prequel The Evening and the Morning takes us on an epic journey into a historical past rich with ambition and rivalry, death and birth, love and hate, that will end where The Pillars of the Earth begins.
About the Author
---
Ken Follett is one of the world's best-loved authors, selling more than 170 million copies of his thirty-one books. Follett's first bestseller was Eye of the Needle, a spy story set in the Second World War. In 1989, The Pillars of the Earth was published and has since become Follett's most popular novel. It reached number one on bestseller lists around the world and was an Oprah's Book Club pick. Its sequels, World Without End and A Column of Fire, proved equally popular, and the Kingsbridge series has sold more than forty million copies worldwide. Follett lives in Hertfordshire, England, with his wife, Barbara. Between them they have five children, six grandchildren, and two Labradors.
Thanks for visiting Excelsior Bay Books!
Hello Friends of Excelsior Bay Books:
We are open for browsing! The store is open Monday through Saturday from 10-6.
We are also available for phone or on-line orders. Curbside pickup is still an option.
Thanks for your patronage.
NOTE: If you want to place an online order, you first need an account. Click Login and choose Create an Account. Once you set up an account, you can login, select books, place them in the cart, and place your orders!
Another Note: The books you'll see as you browse are a combination of what we have in-store and what is available through publishers and distributors. Please call us at 952-401-0932 if you want to find out if a book is immediately available.