You are here
Back to top
Talking to Animals: How You Can Understand Animals and They Can Understand You (Large Print / Hardcover)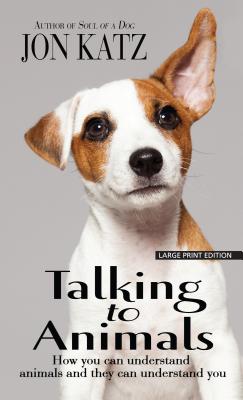 Description
---
New York Times bestselling author Jon Katz offers us a deeper understanding of the inner and outer lives of animals and teaches us how we can more effectively communicate with them, made real by his own remarkable research and experiences with a wide array of creatures great and small.
Eighty years ago, in 1928, author and naturalist Henry Beston issued an important call in his beloved book Outermost House humans must develop a more intuitive understanding of animals. But despite the book's continued popularity, Beston's call was never truly answered. We seem to need animals in our disconnected lives more and more, yet we understand them less and less.
In Talking to Animals, New York Times bestselling author Jon Katz who left his Manhattan life behind two decades ago for life on a farm where he is surrounded by dogs, cats, sheep, horses, cows, goats, and chickens marshals his experience to offer us a deeper insight into animals and the tools needed for effectively communicating with them.
Devoting each chapter to an animal from his life, Katz tells funny and illuminating stories about his profound experiences with them, showing us how healthy engagement with animals falls into five key areas: Food, Movement, Visualization, Language, and Instincts. Along the way, we meet Simon the donkey who arrives at Katz's farm near death and now serves as his Tai Chi partner. We meet Red the dog who started out antisocial and untrained and is now a therapy dog working with veterans from Iraq and Afghanistan. And we meet Winston, the dignified and brave rooster who was injured defending his hens from a hawk and who has better interpersonal skills than most humans.
Thoughtful and intelligent, lively and powerful, this book will completely change the way you think about and interact with animals.
The bookstore is open! Curbside pickup is also still available.
Hello Friends of Excelsior Bay Books:
We are open for browsing! The store is open Monday through Saturday from 10-6.
We are also available for phone or on-line orders. Curbside pickup is still an option.
Thanks for your patronage.
NOTE: If you want to place an online order, you first need an account. Click Login and choose Create an Account. Once you set up an account, you can login, select books, place them in the cart, and place your orders!