You are here
Back to top
Andy Warhol Was a Hoarder: Inside the Minds of History's Great Personalities (Hardcover)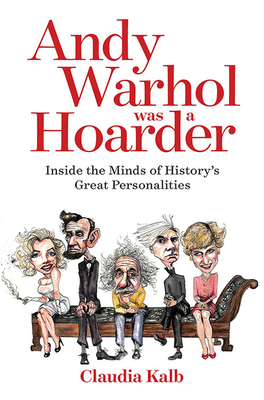 Description
---
Was Andy Warhol a hoarder? Did Einstein have autism? Was Frank Lloyd Wright a narcissist? In this surprising, inventive, and meticulously researched look at the evolution of mental health, acclaimed health and science journalist Claudia Kalb gives readers a glimpse into the lives of high-profile historic figures through the lens of modern psychology, weaving groundbreaking research into biographical narratives that are deeply embedded in our culture. From Marilyn Monroe's borderline personality disorder to Charles Darwin's anxiety, Kalb provides compelling insight into a broad range of maladies, using historical records and interviews with leading mental health experts, biographers, sociologists, and other specialists. Packed with intriguing revelations, this smart narrative brings a new perspective to one of the hottest new topics in today's cultural conversation.
About the Author
---
CLAUDIA KALB, an award-winning journalist who reports on a wide variety of health and science topics, is known for combining serious reporting with engaging, accessible writing. A former senior writer at Newsweek who has contributed to Smithsonian and Scientific American, Kalb has penned hundreds of features on topics ranging from depression and PTSD to painkiller addiction and the surge in drugs used to treat ADHD. She is now a freelance writer and editor.
Praise For…
---
"[Author Claudia Kalb] fruitfully employs diverse sources, including psychology studies and published biographies, to tell the undeniably fascinating stories of her subjects. This is an informative compilation and it's certain to provide readers with fascinating stories to share about an array of famous names."—Publishers Weekly

"Kalb's well-written exercise in applying modern psychiatric theory to historical figures, from Marilyn Monroe to Albert Einstein to Charles Darwin, certainly makes for some very entertaining armchair speculation." —Booklist, starred review

"With keen insight and a writerly flair, Claudia Kalb, one of the nations's pre-eminent science journalists, has written a book that is at once profound and a great deal of fun. She takes us on an engrossing and original journey into the minds (and, yes, the madnesses) of some of history's most intriguing figures. Kalb explores nothing less than the mysteries of genius and of individuality."  —Jon Meacham, Pulitzer-Prize-winning author of American Lion

 "A brilliant and fascinating journey into the perils that so often accompany genius. Spell-binding."  —Edward Hallowell, M.D., co-author of Driven to Distraction

"With a sharp eye but forgiving, deep-seated sense of humanity, Claudia Kalb takes us into the netherworld where emotions make (and break) extraordinary figures from Marilyn Monroe to Albert Einstein. Compelling, intriguing, surprising and fun."  —Evan Thomas, author of Richard Nixon: A Man Divided

"Claudia Kalb uses insights about the great men and women of history to animate today's most gripping mental health headlines … A wonderful book."  —Robin Marantz Henig, New York Times Magazine contributing writer and President, National Association of Science Writers

"Ms. Kalb…gently reframes the narratives of seemingly familiar but quirky celebrities and raises important questions to popular attitudes towards mental health."-Forbes.com

"Claudia Kalb provides compelling insight into the fine line between mental illness and greatness and creativity that plagued some of history's most celebrated icons." –Caroline Howe for Dailymail.com

"While not a business book per se, her [Kalb's] work does have relevance as more people are becoming aware of mental illness as a workplace issue."-Harvard Business Review

"…mixing celebrity stories with a psychological analysis of their personalities… I found this to be a great read." –Celebrity Books

"Kalb doesn't just look at the possible positive effect of mental illness on creativity... She also examines the ways psychological disturbances can tragically cut short creative endeavors."-BookPage
The bookstore is open! Curbside pickup is also still available.
Hello Friends of Excelsior Bay Books:
We are open for browsing! The store is open Monday through Saturday from 10-6.
We are also available for phone or on-line orders. Curbside pickup is still an option.
Thanks for your patronage.
NOTE: If you want to place an online order, you first need an account. Click Login and choose Create an Account. Once you set up an account, you can login, select books, place them in the cart, and place your orders!