You are here
Back to top
Stuff Brits Like: A Guide to What's Great about Great Britain (Paperback)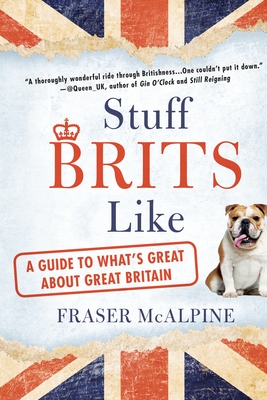 Description
---
If you're looking for the best biscuit to dunk in your tea, the ideal temperature at which to serve real ale or the perfect pasty for your trip to the seaside, you either A) Have been desperately seeking a book exactly like this one or,
B) Have secretly become British without realizing it. If you chose A, congratulations, you are an Anglophile And, if you chose B, don't panic. With the help of Stuff Brits Like, you will soon discover the joy of these and many more delightful British peculiarities and can develop an upper lip as stiff as any you've seen on Downton Abbey. British native Fraser McAlpine set out to do for his countrymen what Stuff Parisians Like did for their neighbors across the channel--offering a guide to their particular tastes and eccentricities with all the cheeky wit you might expect from the people who gave you Noel Coward and Eddie Izzard. You may know to say football instead of soccer and crisps instead of chips. You may even know why taking the piss is more fun and less unsanitary than it sounds. But with Stuff Brits Like, you'll be ready for the next pub quiz in no time.
About the Author
---
Fraser McAlpine is the lead writer for Anglophenia, BBC America's blog for American Anglophiles, and consequently spends a good deal of his working life arguing about the finer points of Doctor Who, Sherlock, Downton Abbey and anything with Tom Hiddleston in it. He lives in Cornwall, which is the Florida of the British Isles, except it's far wetter and there's no Disneyworld.
Thanks for visiting Excelsior Bay Books!
Hello Friends of Excelsior Bay Books:
We are open for browsing! The store is open Monday through Saturday from 10-6.
We are also available for phone or on-line orders. Curbside pickup is still an option.
Thanks for your patronage.
NOTE: If you want to place an online order, you first need an account. Click Login and choose Create an Account. Once you set up an account, you can login, select books, place them in the cart, and place your orders!
Another Note: The books you'll see as you browse are a combination of what we have in-store and what is available through publishers and distributors. Please call us at 952-401-0932 if you want to find out if a book is immediately available.