You are here
Back to top
The Illness Lesson: A Novel (Hardcover)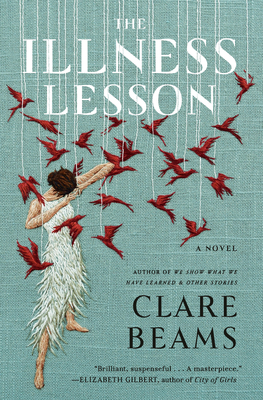 $26.95
Usually Ships in 1-5 Days
Description
---
"Astoundingly original, this impressive debut belongs on the shelf with your Margaret Atwood and Octavia Butler collections."--New York Times Book Review

Named a most anticipated book of 2020 by Time, Vanity Fair, Esquire, O Magazine, Entertainment Weekly, Bustle, BookRiot, Domino, and LitHub

"Brilliant, suspenseful...A masterpiece."--Elizabeth Gilbert, author of City of Girls

At their newly founded school, Samuel Hood and his daughter Caroline promise a groundbreaking education for young women. But Caroline has grave misgivings. After all, her own unconventional education has left her unmarriageable and isolated, unsuited to the narrow roles afforded women in 19th century New England.

When a mysterious flock of red birds descends on the town, Caroline alone seems to find them unsettling. But it's not long before the assembled students begin to manifest bizarre symptoms: Rashes, seizures, headaches, verbal tics, night wanderings. One by one, they sicken. Fearing ruin for the school, Samuel overrules Caroline's pleas to inform the girls' parents and turns instead to a noted physician, a man whose sinister ministrations--based on a shocking historic treatment--horrify Caroline. As the men around her continue to dictate, disastrously, all terms of the girls' experience, Caroline's body too begins to betray her. To save herself and her young charges, she will have to defy every rule that has governed her life, her mind, her body, and her world.

Clare Beams's extraordinary debut story collection We Show What We Have Learned earned comparisons to Shirley Jackson, Karen Russell and Aimee Bender, and established Beams as a writer who "creates magical-realist pieces that often calculate the high cost of being a woman" (The Rumpus). Precisely observed, hauntingly atmospheric, as fiercely defiant as it is triumphant, The Illness Lesson is a spellbinding piece of storytelling.
About the Author
---
CLARE BEAMS is the author of the story collection We Show What We Have Learned, which won the Bard Prize and was a Kirkus Best Debut of 2016, as well as a finalist for the PEN/Robert W. Bingham Prize, the New York Public Library's Young Lions Fiction Award, and the Shirley Jackson Award. With her husband and two daughters, she lives in Pittsburgh, where she teaches creative writing, most recently at Carnegie Mellon University and the Pittsburgh Center for the Arts.
Praise For…
---
"This is Alcott meets Shirley Jackson, with a splash of Margaret Atwood...Unusual and transporting."
—Washington Post

"[This] gripping novel meditates on how an all-male establishment can denying women's pain, and how the consequences can shape a society."
—Vanity Fair

"Beams's first novel is a meticulously crafted suspense tale seething with feminist fury."
—O, The Oprah Magazine

"Masterfully considered…Clare Beams' cool, cutting prose hypnotically evokes the oppression of female bodies and minds."
—Entertainment Weekly

"A haunting psychological thriller about society's preoccupation with controlling women's minds and bodies...[An] arresting, beautifully written debut novel."
—Newsday

"Beams (We Show What We Have Learned, 2016) takes risk after risk in this, her first novel, and they all seem to pay off. Her ventriloquizing of the late 19th century, her delicate-as-lace sentences, and the friction between the unsettling thinking of the period and its 21st century resonances make for an electrifying read. A satisfyingly strange novel from the one-of-a-kind Beams."
—Kirkus (starred review)

"Luminous...This suspenseful and vividly evocative tale expertly explores women's oppression as well as their sexuality through the eyes of a heroine who is sometimes maddening, at othertimes sympathetic, and always wholly compelling and beautifully rendered."
—Booklist (starred review)

"Daring…[a] powerful and resonant feminist story."
—Publishers Weekly

"The Illness Lesson is a brilliant, suspenseful, beautifully-executed psychological thriller. With power, subtlety, and keen intelligence, Clare Beams has somehow crafted a tale that feels like both classical ghost story and like a modern (and very timely) scream of female outrage. I stayed up all night to finish reading it, and I can still feel its impact thrumming through my mind and body. A masterpiece."
—Elizabeth Gilbert, author of City of Girls

"Stunningly good—a brainy page-turner that's gorgeous and frightening in equal measure. The Illness Lesson dazzled me."
—Leni Zumas, author of Red Clocks

"Clare Beams has a compellingly edgy sense of just how quietly ubiquitous both the surreal and the oppressive can be in our lives.  The Illness Lesson features a memorably appealing young protagonist who, even given her time and place, persists in questioning why powerful and mostly well-meaning men who otherwise see with such clarity can remain so blind to so much."
—Jim Shepard, author of The Book of Aron

"I read The Illness Lesson over the course of two feverish days, as if one of the afflicted girls at Trilling Heart School, possessed and enthralled by the sly beauty of the prose and by Clare Beams's riveting insights on women's bodies and power. A beautiful, timely novel by a writer with a once-in-a-lifetime imagination—I'm a Clare Beams fan for the long haul, and this knockout will win her legions more."
—Julie Buntin, author of Marlena

"The Illness Lesson truly shook me. In prose so sharp it cuts through the decades and arrives at the present day, Clare Beams takes a shocking moment out of true history, and brings it to life. You want to know how horrifying things happened while decent people looked on and did nothing? Read this novel. I believed every nuance of these characters' thoughts, the conflicts waging war inside their own minds, their devastation, and their courage. I was immensely moved by this story, and the people who populate its pages." 
—Mary Beth Keane, author of Ask Again, Yes

"The bravery of Beams is contagious in this beautifully written and radically profound book. The Illness Lesson glows with guts, questioning where nature and knowledge, control and disease meet in young women. Beams's astonishing accomplishment radiates terror, joy and wonder as this narrative, deeply grounded in the female body, takes flight."
—Samantha Hunt, author of The Dark Dark

"Narrated from a painfully intimate perspective, The Illness Lesson explores the consequences of an outrageous medical treatment inflicted upon adolescent girls in 1870's New England to cure "hysteria." In Clare Beams's luminous and suspenseful prose, the unspeakable is spoken, falteringly at first, then with triumphant strength.  Its timeliness will be evident to readers for whom the suppression of female sexuality/ identity is an ongoing and urgent issue."
—Joyce Carol Oates, author of Pursuit

"This haunting novel blends historical fiction with 
a timely comment on women's bodies and minds, and those
 who think they can control them."
—Stylist UK
The bookstore is open! Curbside pickup is also still available.
Hello Friends of Excelsior Bay Books:
We are open for browsing! The store is open Monday through Saturday from 10-6.
We are also available for phone or on-line orders. Curbside pickup is still an option.
Thanks for your patronage.
NOTE: If you want to place an online order, you first need an account. Click Login and choose Create an Account. Once you set up an account, you can login, select books, place them in the cart, and place your orders!