You are here
Back to top
Nightbird (Paperback)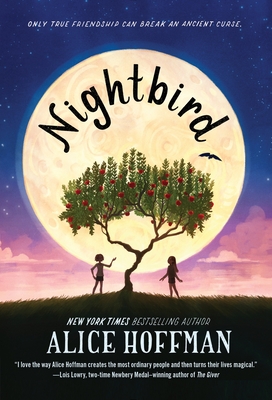 $7.99
Usually Ships in 1-5 Days
Description
---
Bestselling author Alice Hoffman's bewitching Nightbird is perfect for ages 10-13: love and friendship empower a lonely girl to embrace her uniqueness and discover her strengths.  

Twig lives in Sidwell, where people whisper that fairy tales are real. After all, her town is rumored to hide a monster. And two hundred years ago, a witch placed a curse on Twig's family that was meant to last forever. But this summer, everything will change when the red moon rises. It's time to break the spell.
 

Praise
Nominated for:
The Great Stone Face Award (NH)
Rebecca Caudill Young Readers' Book Award (Illinois)
The Black-Eyed Susan Book Award (Maryland)

"Hoffman reminds us that there are secrets everywhere . . . Nightbird soars."
—The New York Times
 
"Alice Hoffman has a gift for melding magic and realism in a way that makes nearly anything seem possible."
—Shelf Awareness, Starred
 
"The mix of romance and magic is irresistible."
—Kirkus Reviews

What Other Authors Are Saying
"I love the way Alice Hoffman creates the most ordinary people and then turns their lives magical. . . . [Nightbird] is like reentering a wonderful dream that you vaguely remember." —Lois Lowry, two-time Newbery Medal–winning author of The Giver
 
 
About the Author
---
Alice Hoffman is the author of more than thirty bestselling works of fiction, including Practical Magic, a major motion picture; Here on Earth, an Oprah Book Club selection; the highly praised historical novel The Dovekeepers; and, most recently, The Museum of Extraordinary Things. Her books for teens include Green Angel, Green Witch, Incantation, The Fortelling, and Aquamarine, also a major motion picture, starring Emma Roberts. Visit her online at alicehoffman.com.
Praise For…
---
Praise for Nightbird

"Hoffman reminds us that there are secrets everywhere . . . Nightbird soars."
—The New York Times
 
"Alice Hoffman has a gift for melding magic and realism in a way that makes nearly anything seem possible."
—Shelf Awareness, Starred
 
"The mix of romance and magic is irresistible."
—Kirkus Reviews
The bookstore is open! Curbside pickup is also still available.
Hello Friends of Excelsior Bay Books:
We are open for browsing! The store is open Monday through Saturday from 10-6.
We are also available for phone or on-line orders. Curbside pickup is still an option.
Thanks for your patronage.
NOTE: If you want to place an online order, you first need an account. Click Login and choose Create an Account. Once you set up an account, you can login, select books, place them in the cart, and place your orders!