You are here
Back to top
Flash Count Diary: Menopause and the Vindication of Natural Life (Hardcover)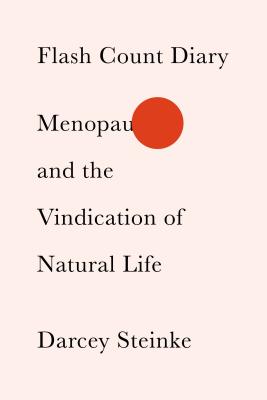 $26.00
Usually Ships in 1-5 Days
Description
---
"Many days I believe menopause is the new (if long overdue) frontier for the most compelling and necessary philosophy; Darcey Steinke is already there, blazing the way. This elegant, wise, fascinating, deeply moving book is an instant classic. I'm about to buy it for everyone I know." —Maggie Nelson, author of The Argonauts

A brave, brilliant, and unprecedented examination of menopause

Menopause hit Darcey Steinke hard. First came hot flashes. Then insomnia. Then depression. As she struggled to express what was happening to her, she came up against a culture of silence. Throughout history, the natural physical transition of menopause has been viewed as something to deny, fear, and eradicate. Menstruation signals fertility and life, and childbirth is revered as the ultimate expression of womanhood. Menopause is seen as a harbinger of death. Some books Steinke found promoted hormone replacement therapy. Others encouraged acceptance. But Steinke longed to understand menopause in a more complex, spiritual, and intellectually engaged way.

In Flash Count Diary, Steinke writes frankly about aspects of Menopause that have rarely been written about before. She explores the changing gender landscape that comes with reduced hormone levels, and lays bare the transformation of female desire and the realities of prejudice against older women. Weaving together her personal story with philosophy, science, art, and literature, Steinke reveals that in the seventeenth century, women who had hot flashes in front of others could be accused of being witches; that the model for Duchamp's famous Étant donnés was a post-reproductive woman; and that killer whales—one of the only other species on earth to undergo menopause—live long post-reproductive lives.

Flash Count Diary, with its deep research, open play of ideas, and reverence for the female body, will change the way you think about menopause. It's a deeply feminist book—honest about the intimations of mortality that menopause brings while also arguing for the ascendancy, beauty, and power of the post-reproductive years.
About the Author
---
Darcey Steinke is the author of the memoir Easter Everywhere and the novels Milk, Jesus Saves, Suicide Blonde, Up Through the Water, and Sister Golden Hair. With Rick Moody, she edited Joyful Noise: The New Testament Revisited. Her books have been translated into ten languages, and her nonfiction has appeared in The New York Times Magazine, The Boston Review, Vogue, Spin, The Washington Post, Chicago Tribune, and The Guardian. She has been both a Henry Hoyns Fellow and a Stegner Fellow as well as a writer in residence at the University of Mississippi, and has taught at the Columbia University School of the Arts, Barnard, the American University of Paris, and Princeton.
Praise For…
---
"I hope that Steinke's book, which I consumed hungrily, will encourage a wave of work by and about women undergoing what is, quite literally, a once-in-a-lifetime experience. Steinke makes the case that the inexorable slide away from fertility is a rebirth of agency, and her book is the fruit of the very creativity it describes." —Sarah Manguso, The New Yorker

"[An] incandescent account of menopause . . . [Steinke] luxuriates in a sense of gender as fluid, a hormonal tide between two poles, along which we all bob and drift, sometimes making drastic crossings and sometimes remaining tethered in place." —Olivia Laing, The Guardian

"Steinke's book takes an unflinching look at what happens when fertility, her fertility in particular, ends—and something else, wild and unpredictable, takes over . . . Flash Count Diary is so much more than a menopause travelogue. Throughout, Steinke weaves her personal story with philosophy, science, art and literature, a hybrid that feels fresh and new in the landscape of traditional memoirs . . . Luckily, her cri de coeur has become the book we now hold in our hands." —Cathy Alter, The Lily

"A keen exploration of menopause . . . Provocative ideas and illuminating personal stories centered on the idea that 'it is not menopause itself that is the problem but menopause as it's experienced under patriarchy.'" —Kirkus Reviews

"Steinke brings a fervent feminism and vibrant voice to a subject that has, for far too long, been talked about only in whispers." —Booklist

"Simultaneously contemplative and messily visceral, this extraordinary fugue on menopause, a book 'situated at the crossroads between the metaphysical and the biological,' centers on the experience of the aging woman ... [Steinke's] ability to translate physical and emotional experiences into words will make menopausal readers feel profoundly seen and move others." —Publishers Weekly (starred)

"[Steinke explores] a variety of topics through the lens of menopause: Sex; grief; the patriarchy; whales, gorillas, horses, and elephants; God; art; the transgender community; and, of course, women's bodies, along with our minds, our spirits, our anger, and our animalness. She braids all of this into sparse, patient prose that's somehow lush and explosive, not to mention formidable and exquisitely sensitive to all beings." —Jane Ratcliffe, Longreads

"[Darcey Steinke] has written a searingly intelligent, richly imagined, deeply moving memoir and exploration of menopause . . . I love this book. I admire this book. I want everyone to read this book. It's fierce, and it's important." —Elizabeth Gilbert, author of Eat, Pray, Love and City of Girls

"Many days I believe menopause is the new (if long overdue) frontier for the most compelling and necessary philosophy; Darcey Steinke is already there, blazing the way. This elegant, wise, fascinating, deeply moving book is an instant classic. I'm about to buy it for everyone I know." —Maggie Nelson, author of The Argonauts

"Part memoir, part manifesto, part natural history, this book is a profound white-knuckle ride through unnamed territories." —Jenny Offill, author of Dept. of Speculation

"Meticulously researched and passionately written, Flash Count Diary examines the shame and stigma attached to female aging so closely that their opposites are revealed. Steinke posits menopause as a channel through which new realms of possibility, depth, strength and growth can be revealed. An inspiring and visionary book." —Chris Kraus, author of After Kathy Acker

"For what Darcey Steinke has just taught me about my own body—all of our bodies—I will love her eternally. After readings bits of Flash Count Diary aloud to my twelve-year-old, she confided in me, 'I can't wait for menopause.' This fearless and fiercely intelligent book needs to be read by every woman, man, and child as it explores and explodes ideas about aging, desire, our wildness, and our wonder." —Samantha Hunt, author of The Dark Dark: Stories
The bookstore is open! Curbside pickup is also still available.
Hello Friends of Excelsior Bay Books:
We are open for browsing! The store is open Monday through Saturday from 10-6.
We are also available for phone or on-line orders. Curbside pickup is still an option.
Thanks for your patronage.
NOTE: If you want to place an online order, you first need an account. Click Login and choose Create an Account. Once you set up an account, you can login, select books, place them in the cart, and place your orders!